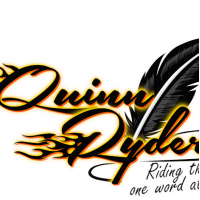 Quinn Ryder
Suspense, Romance, Dark Romance & Erotica
The Devil's Armada--Don't mess with the Devil if you can't stand the flames.

Quinn Ryder lives in a fantasy world full of badass bikers, feisty heroines, and chrome that's twitching to rumble between your legs.

She's been in the business for five years, so this author is no stranger to written words, but she must admit that the MC world is a bit new to her. Tempted by the corruption and chaos that follows the open road, Quinn created the Armada after one burly biker refused to leave her head until she finished telling his story. Now, Specter and all of his brothers are ready to suck you in with their rough exteriors, foul mouths, and hearts full of steel and chrome.

Are you ready to dive into the world of the Devil's Armada? Come join Quinn Ryder and her men of steel, and be prepared to hang on for one hell of a ride!

Quinn Ryder, creating worlds full of danger and intrigue, while riding the road one word at a time.