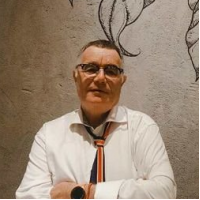 Rob Burton
Thrillers, Supernatural Suspense, Paranormal Romance, Historical Fiction
Profession

English Teacher
Currently living, working and writing in China. My first novel Meditations on Murder is currently available on Amazon as an ebook, paperback and is available FREE on KindleUnlimited.

The Castle of the Red-Haired Maidens is a novella now available on Amazon. This is the backstory to Nye who appears as a ghost in Meditations on Murder. In that book she tells us she was horribly killed in 12th century Scotland. The novella tells that story.

My second novel The Twelfth Rune is about 90% done. Once again Charlie Simpson is pitted against supernatural and mystical forces. Set in Cornwall and using Cornish Myths and Legends Charlie has to rescue magical religious artefacts from the evil Modred and the Black Bucca.

Subscribe to my website to be the first to know when it is available. If you would like to be a Beta reader please email me.
Video
Meditations on Murder Trailer
"Lord, make me an instrument of thy peace. Where there is hatred, let me sow love."