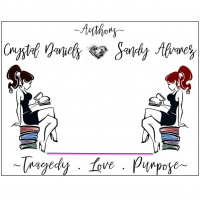 Sandy Alvarez
Romantic Suspense
Sandy Alvarez is a romance author who co/writes with her sister Crystal Daniels. She loves writing about sexy alpha men and the women who love them. Her current series is The Kings Of Retribution Mc. Sandy lives in Mississippi with her husband and four kids.

Want text alerts when I have a new release. Text BOOKLOVER to 21000.
Recommended Featured Books
"The future belongs to the few of us still willing to get our hands dirty."