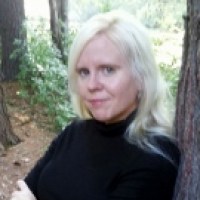 Sky Purington
Action & Adventure, Paranormal Romance, Time Travel Romance, Fantasy
Sky Purington is the bestselling author of forty novels and several novellas. A New Englander born and bred who recently moved to Virginia, Sky was raised hearing stories of folklore, myth, and legend. When combined with a love for history, romance, and time-travel, elements from the stories of her youth found release in her books.

Purington loves to hear from readers and can be contacted at Sky@SkyPurington.com. Interested in keeping up with Sky's latest news and releases? Either visit Sky's website, www.SkyPurington.com, sign up for her quarterly newsletter, or sign up for personalized text message alerts. Simply text 'skypurington' (no quotes, one word, all lowercase) to 74121 or visit Sky's Sign-up Page. Texts will ONLY be sent when there is a new book release. Readers can easily opt out at any time.

Love social networking? Find Sky on Facebook and Twitter.
Work gives you meaning and purpose and life is empty without it.
Stephen Hawking