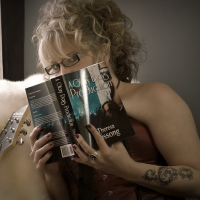 Theresa Hissong
Contemporary Romance, Romantic Suspense, Paranormal Romance, Romance, Fantasy
Theresa is a mother of two and the wife of a retired Air Force Master Sergeant. After seventeen years traveling the country, moving from base to base, the family has settled their roots back in Theresa's home town of Olive Branch, MS, where she enjoys her time going to concerts and traveling with friends and family.
After almost three years of managing a retail bookstore, Theresa has gone behind the scenes to write romantic stories to share with the world. She enjoys spending her afternoons daydreaming of the perfect love affair and takes those ideas to paper.
"I don't believe people are looking for the meaning of life as much as they are looking for the experience of being alive."