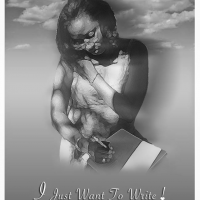 Until
Children's, Poetry, Business
Profession

Author, Journalist, Entrepreneur
Until's Biography
"Until fell in love with writing the minute she could hold a pen and write her name."

Quanda R. Graves better known by her pseudonym, Until; born a California native fell in love with writing the minute she could hold a pen and write her name. Until began her journey of writing at the tender age of twelve. Until also enjoys blessing the stage with Spoken-Word, sharing some of the many works that she has created, cultivating her audience with poems that illustrate love, solitude and her spirituality.

She is a very dedicated poetess who embodies the true art form of poetry with a touch of classic styles, as well as her own, which clearly screams originality. Her poetry style comes off as simple and honest with a hint of adventure, which truly helps illustrates the very message that she conveys in her poetry.

Until has finished her poetry residence from September to March of 2016 at Max Bloom Café Noir in Fullerton, California for the Poetic Uprising Series. She has also fulfilled her childhood dream by publishing her very first poetry edition, which was released in 2014. Moreover, Until launched her very own Tea named after her poem called Dreams "Are Meant to be Lived" Oolong Tea along with a campaign to provide a spark to women to begin again/or at least start to the process of pursuing their dreams.

Until will also be launching her first greeting card line entitled "Simple Treasures" at the end of January 2018 and publishing her next book at the end of the year. Until is also a literary columnist and journalist for the California Crusaders Newspaper and radio personality. If you would like to read and see more about Until, please explore her website/blogs and interviews on Until T.V. on the following links below:

Website: www.untilnomore.net
Until TV: youtube.com/untilnomore
UTVBlog: www.qrgu.blogspot.com

I Just Want to Write! www.Ijwtw.blogspot.com

QS Simple Treasures Greetings and Collections: www.qssimpletreasures.blogspot.com
*For those interested in purchasing Until's book; I Just Want to Write, please visit her website and if you would like to receive a "Simple Treasures Greeting Cards Brochure" for pre-orders, please send an email to qssimpletreasures@gmail.com.
Recommended Featured Books
"Dreams "Are Meant To Be Lived" ~Until ..."
"Poetry is me. Therefore I am Poetry"