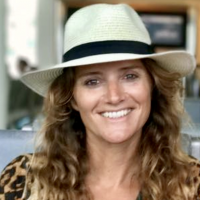 Willow Rose
Crime Fiction, Thrillers, Suspense, Mysteries, Supernatural Suspense, Fantasy, Horror, Teen & Young Adult
Willow Rose is a multi-million-copy best-selling Author and an Amazon ALL-star Author of more than 70 novels.

Several of her books have reached the top 10 of ALL books on Amazon in the US, UK, and Canada. She has sold more than three million books all over the world.

She writes Mystery, Thriller, Paranormal, Romance, Suspense, Horror, Supernatural thrillers, and Fantasy.

Willow's books are fast-paced, nail-biting pageturners with twists you won't see coming. That's why her fans call her The Queen of Scream.

Willow lives on Florida's Space Coast with her husband and two daughters. When she is not writing or reading, you will find her surfing and watch the dolphins play in the waves of the Atlantic Ocean.
A best-seller is the golden touch of mediocre talent.
Logan Pearsall Smith