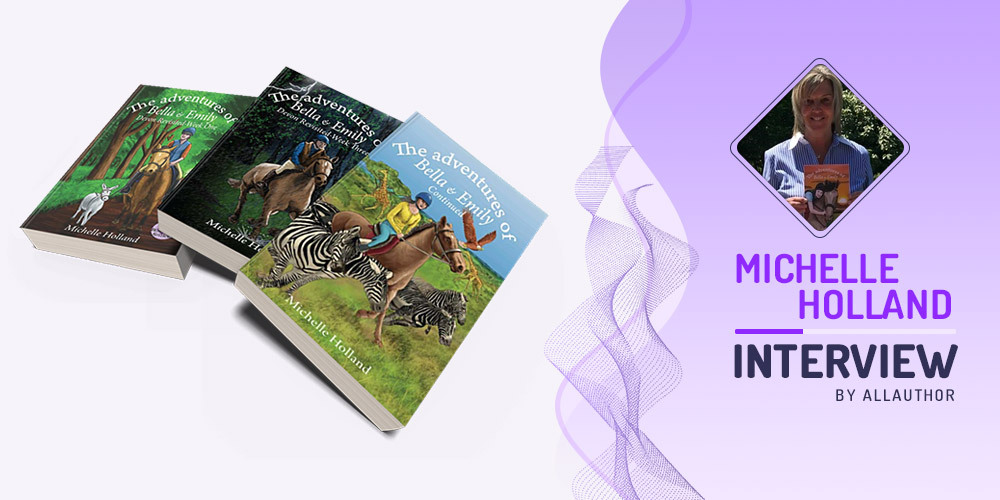 Where were you born? What do you miss the most about your childhood?
I was born in Sheffield, I miss my Mum who sadly passed away in 2011. I feel she is always with me when I write my books.
What is one thing that you, as a children's book author, would never write about?
I would never write about child abuse.
Where would you say your love for writing and storytelling comes from? Do your parents like to write?
My writing comes straight from my heart. I dream every single night and sometimes a new chapter appears! My Dad likes to make up rhymes!
When did you decide to do a Canine Psychology & Behaviour course?
In August 2012 I rescued a collie cross dog called Jasper who was only 6 months old. He had already been badly abused, beaten up and had half of his tail chopped off. He was suffering with severe aggression, so badly that my vet advised putting him to sleep, after I'd had three qualified dog behaviourist in who couldn't do anything with him. One even gave him an asbo! One day I started getting pictures in my head, scenes of what had happened to him in his past and this helped me to understand and help him become the truly fabulous and loving dog that he is today. Jasper has inspired me to help numerous rescue dogs in desperate need and teach their owners how to listen to what their dog is telling them. Jasper's story also inspired me to write Inside A Dog's Mind Jacob's Journal (written by the dog).
When was your first book published and what were the main obstacles you faced trying to get it published?
In 2013 I published a book called Shelly finds her dream pony Chelsea. An American book critic called Sue gave me a very harsh review saying my book was far too predictable and bland. I then emailed her to explain I had never written a book before, and told her I had always been involved with rescuing ponies. Sue advised me to introduce rescue ponies into my book, as my passion would shine through in my words and over a period of 2 years she helped and encouraged me to re-write the book and the complete re-write is in fact, The Adventures of Bella & Emily. I published Shelly finds her dream pony Chelsea with a book publishing company but sadly they went into liquidation two years later :-(
When did you open your company 'Time For You Domestic Cleaning Brighton & Sussex'?
Time For You was established in November 2001.
Working full time, do you face challenges while finding time to write a book?
All the time! I get frustrated as I just want to write, but I have to be disciplined and make sure I do my work!
What qualities about Aunty Pam character in "The adventures of Bella & Emily Devon-Revisited Week Three" do you personally admire?
I love Aunty Pam, as she is a true inspiration and her passion for helping any rescue animal in need is heart-warming.
Do you ever have writer's block? How do you overcome it?
I have suffered with this and when it happens I just move on to another chapter and then go back to finish the part I was stuck on when I have a fresh and clear head.
How do you aspire to portray your women characters in your books?
I want my women characters to be strong, fun, caring and passionate in everything they do.
What inspired you to start writing the "The Adventures of Bella & Emily" series? Do you find it more challenging to write the first book in a series or to write the subsequent novels?
Originally I was only going to write one book, but I got so much positive feedback especially when I met a 14 year old girl called Steph in 2017 when I was doing a book signing at HorseWorld Trust (one of my 5 organisations who I donate 50% of the book profits to). Steph said The adventures of Bella & Emily was the best pony story she had ever read and she basically kept 'nagging me' to write more. This is where the whole series started!
Your books have helped me to see that if you face a problem it will all work out okay. Also, in your recent book when Emily is working with Specks, it has helped guide me with training work that I am doing with a friend's horse that has come off the moors and is very nervous around people. She's learning slowly. I love how your books are so unique and don't "copy" other horse books where something goes missing or someone is stolen. I truly love each and every book you have written and it is clear that a lot of thought has gone into every word. I love your work and how you also donate some of the money made from your books to charities.
Steph Lewis aged 16.
How do you think concepts such as Kindle, and e-books have changed the present or future of reading?
I think this has given youngsters the ability to read an ebook from wherever they are, on their kindle or on their phones. I personally prefer to hold a real book in my hands.
If you had a chance to bring one of the characters in your book to life, who would it be and why?
It would have to be Emily. In the first book in the series The adventures of Bella and Emily, she was only thirteen years old, it has been truly awesome writing her journey through life up until book six The adventures of Bella & Emily continued where she is now seventeen. Emily is a true inspiration and her passion for rescue and fundraising is truly heart-warming and commendable.
What are your plans for the future as a writer? Are you working on anything new?
I would love to write all the time, as I have so many stories in my head! but I need to be sensible as self-publishing doesn't come cheap so I need to sell more copies of my books first!
Lastly, could you give us a brief review of your time with AllAuthor so far? How has this website impacted you and what are some ways that it can be improved?
I am so pleased I came across AllAuthor. The book cover of the month has been such tremendous fun and I was elated when The adventures of Bella & Emily won September cover. I am getting more followers, book views and Amazon clicks, thanks to you. Any exposure really helps a self-published Author like me. Your tweets really help, as to be honest, I am totally useless on Twitter! I love the gifs and banners you make available, as I can produce these quickly and easily, they are very professional and help me in promoting my books. I would like to thank you for your continued help and support.
Share Michelle Holland's interview
E.G. Radcliff interview
Michael Kent interview