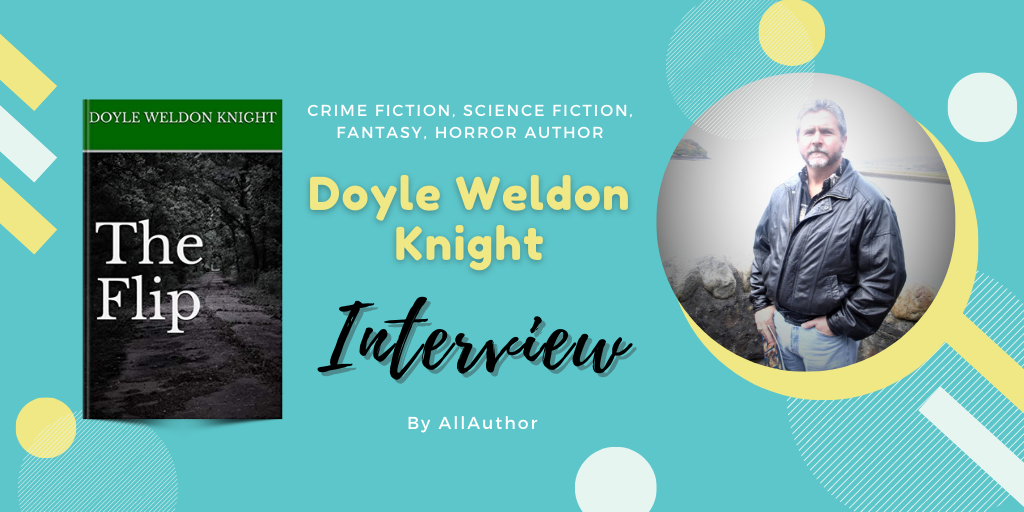 Born in Alexandria, Louisiana, which is your most cherished memory?
When my father passed away suddenly in 1966, we moved next door to my grandparents. My mother's father, Papaw, spent many hours with me, teaching me the southern outdoors, growing a garden, milking the cows and tending to the chickens.
One of my most precious memories is a day we went squirrel hunting and he let me shoot one. I remember the sense of pride displayed in the elderly man that day. I think that is when a young boy began to think that things might actually turn out all right.
What do you love the most about reading?
The opportunity to live in another place and time for a few hours. I want to be bombarded with an emotional rollercoaster; laugh, cry, wonder, realize and imagine. Entertain me for a few hours and I am yours for life.
What is the reason behind you being known as Weldon in Rapides Parish?
I was named after my grandfather; Doyle Weldon Knight. He had passed away before I was born but the community knew and loved him as "Big Doyle". My father's name was Doyle Elwyn Knight and he was known locally as "Little Doyle." When I came along, family members called me Weldon to keep confusion down. In 1986, I became a father to a son; I named him Doyle Elwyn Knight after his grandfather.
How has been your experience of working multitude of roles from oilfield laborer to corporate management?
The oilfield industry has been very good to me and mine. In 1979, I was only going to work in the oilfields for a few years, save my money, and go to college. That was the plan until I found my southern belle in that yellow sundress in the early 1980's. Like kids did then, we didn't have anything but love and desire when we wed in 1983. She was a bank teller and I worked the oilfields in the early days. Looking back, those were some of the happiest days of our lifetime together. Even then, while juggling work, raising babies, paying bills and living life, we always found time to read and often Christmas or Birthday would bring a new release of a favorite author.
As I escalated into the ranks and later moved into the corporate office the work ethic obtained in my early years propelled me forward. I travelled the globe and performed duties on all continents except Antarctica. In 2006, I accepted a managerial position in an oversees assignment. My wife and I had residences in Scotland and in Brazil for several years.
The oilfield allowed this common man to excel beyond his expected role in society and provide for his family with above average means. My oldest daughter, (my heart), earned a bachelor's degree, a master's degree and a doctorate in bio-medical engineering from Louisiana Tech University. My son, (my pride), followed in my footsteps and became an oilfield subsea engineer in his own right and my youngest daughter, (my joy), earned a bachelor's degree in biology and completed her medical degree of D.P.T, (doctor of physical therapy) from Louisiana State University.
Mama and I now relish in the spoilage of our grandbabies and we still find time for a good book or two along the way.
How much did you research about the Pentacle Virus pandemic of 2016 while writing your book, "The Flip"?
I returned to the US to work a 28x28 day rotation as a Chief Subsea Specialist and worked a shipyard job of one of our vessels in Pascagoula, MS in 2016. I did not do much research on pandemics, just some basic internet search on bullet points. Me and You and Dog Named Blue, pretty much wrote itself within a period of a couple of months. My editor convinced me to change the name to something shorter, Whallah!: The Flip.
How did you come up with the character of Dinky in your book, "The Flip"?
Dinky is a southern gentleman. Much like some of the men I have known throughout my life and some that I strived intensely to imitate. A man that was hard or soft depending on the situation but always considerate of family and loved ones.
Dinky's demeanor probably represents my Papaw the greatest. Papaw would never judge nor say a harsh word about another man. He was a consummate gentleman in the presence of a lady. He loved to joke and kid with the people he loved and had a most infectious laugh. As with most men of his era, he took his demeanor with him to the grave.
Dinky is the kind of man you would love to dislike but just cannot find a reason to.
What is the most ideal ambiance for you to write in?
I have written in the bunk of an offshore vessel, a musky hotel room that smelled of stale nicotine, sitting in an airplane seat 32,000 feet above Iceland, in the comfort of my library, and the solitude of my fishing camp with only the crickets buzzing in the background. My ambiance in any place where the juices flow freely and the characters show me the way.
What inspired you to write your short story, The Matriarch Sin in Halloween Party 2019?
I have written many short stories since I began writing in 2016. Most of those stories gravitate toward the macabre. DPP (Devil's Party Press) asked for entries related to Ghost Stories. My short story; Booger, was a ghost story and I sent it to DPP in early 2019.
I didn't win the competition but David and Dianne loved the story. The asked if they could include it in the Anthology but requested that I change the name from, Booger. Not a problem, I thought about the story line and the title became; The Matriarch Sin.
What family traditions from your childhood did you pass down to your own children?
Respect and obey your elders. Help a person in need, if able. Strive to live by the Ten Commandments and the Golden Rule. Sunrise service at the cemetery on Easter Sunday. Hanging of the Greens in the church at Christmas. Thanksgiving dinner with the family, potluck dishes but there had better be some chicken-N-dumplings and banana pudding somewhere in the house. A profound love for the great southern outdoors; fishing, hunting, appreciation for the beauty of nature.
What is one message that you try to impart through your books?
Beauty can be found in the ugliest of places. Attitude is the key to success in all matters. A willingness to overcome adversity with gratitude. "If you are going to suck the gravy; sometimes you have to chew the bones!" Love like this is your last day.
What according to you are the key ingredients of a successful book?
I love a book that pulls you in and keeps you in a state of wonder until the words, The End, are read. Those books , to me, are the successful books.
A young lady told me that she had enjoyed, The Flip. I had been told this before and thanked her for the kind words. She then informed me that she was only going to read a few chapters that night and finished the book as the light was breaking to the east. Her husband informed me that she kept him up most of the night, either giggling or crying. That was my proudest moment as an author.
All that I hope to obtain with any reader that completes, The Flip, is a chance that the reader was emotionally entertained and satisfied upon completion.
Do you encounter writer's block often? If so, which book of yours did you get stuck on the most and what are some things you did to get your brain working again?
I have a WIP titled, The Golden One, a sc/fi tale of fairies, that had writers block get in the way. I think I have accumulated some 55K words on it. When the juice stops flowing, I switch to something else, a different WIP or a new short story. Somewhere along the way, the fae folk will let me know when they are ready.
What is the best writing tip you ever received and who gave it to you?
"Don't over think it!", my mother, a true southern belle.
She read the first draft of, The Flip, but succumbed to cancer before the final edit of the manuscript. It is dedicated to her.
How long have you been with AllAuthor now and how have you been enjoying it?
I have been with AllAuthor since the release of, The Flip, in August 2020. I enjoy and look forward to the mockups and displays provided for social media.
Share Doyle Weldon Knight's interview
Mark D Richardson interview
Jess Vaughn interview