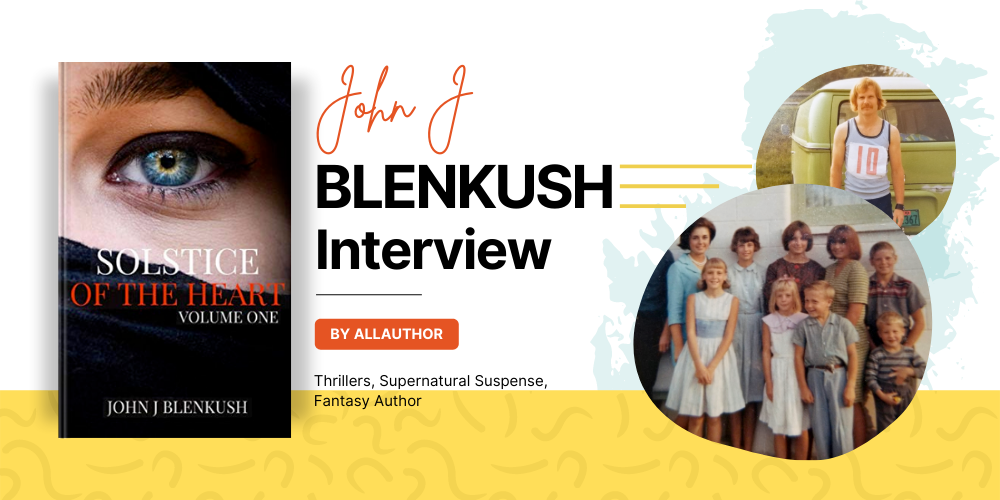 What did your childhood home look like?
I grew up in a cinder-block house (built by our father) with my nine siblings, located in central Minnesota. The house was small, but had three stories: the main, upstairs (3 bedrooms), and a full basement, where the boy's bedroom was. The cinder blocks had no insulation, so I remember seeing ice form at the base of the walls and stepping out of bed into freezing water in the basement. I make the claim that I never saw the inside of a bathroom until I was thirteen, as I grew up with six sisters.
What were your hopes and aspirations as a kid and have you achieved any of them?
As a child, I don't remember aspiring to anything. It was enough to survive. We were isolated on a 120-acre farm, where, if I wasn't in school, I was doing chores. TV was non-existence. We walked a mile to a country school, attended Catholic church on Sundays, and rarely strayed from the farm. My dad always said, "the most productive crops on the farm were kids, rocks, and snow."
Where would you say your love for writing and storytelling comes from? Do your parents like to write?
The endless days of mundane chores as a child ignited my imagination, often into a world of my own making. Without stimulus from the outside world, we instinctively generated our own, creating worlds with sticks and stones. For instance, we fabricated horses from sticks and bailing twine, tying them to our waist and riding the high plains. We built 'houses' with an outline of sticks and planted moss in the 'rooms.' In the winter months we'd scoop out bobsled runs, fashion ice skating rinks with snow and water, and dig caves in the snowbanks. Once a month the bookmobile would stop by our country school. The biographies of Daniel Boone, Kit Carson, Jim Bridger, Davy Crockett, Bill Hickok, and others grabbed my attention and opened a whole new world for me, which I believe carried forward to my character-driven writing in Stacy's Story, Reddition, and the Solstice Series. No, my parents weren't writers.
Were you an avid reader as a child? Do you still read books?
Yes. The bookmobile was my window to expanding my world as a child. I still read and love high adventure stories and anything else that interests me. Currently reading 12 Men Strong and The Devil In The White City.
Why did you choose the suspense/thriller genre? According to you, what makes an unforgettable suspense book?
I chose the suspense/thriller genre when writing Reddition and Stacy's story because making a protagonist squirm IS precisely what makes an unforgettable suspense book. That and the protagonist's reactions while facing insurmountable odds. In Lang's case, he's out of his depth and faces antagonists from all sides, while Stacy battles a madman. Both are altered due to circumstances beyond their control, forever changing the way they look and respond to the world.
When was the first time you ran a marathon? At the age of twenty-five, in Chiemsee, Germany. After my first marathon I said, "never again!" and didn't return to running marathons until I was fifty-one. Since then I've run thirty plus marathons, including Boston, New York, Grandmas, and Tahoe. Currently training to run Maui's 50th year marathon, April 24, 2022.
Who or what was the inspiration behind your character Julissa? What makes her such a memorable character?
After having summited Mount Shasta over a dozen times and reveling in its mysticism, including the hidden Lemurian city of Telos, the basic storyline evolved. Choosing a young girl as the lead character seemed logical as the story required an emotional-driven character who is unsure and amendable, like my six sisters were while growing up. Because the Solstice Series is told from Julissa's viewpoint, and she's forced to navigate an alter world to which she must conform, her character lives on in the minds of readers. There were times when I felt I was just along for the ride, Julissa prodding me forward.
"The Solstice series' strength lies in its rich cast of characters, who have grown with us since Book 1. Nowhere is this more evident than in the case of Julissa, once just a maligned and shamed teenager but now our planet's only hope of salvation." Red City Reviews.
What kind of research was involved when you were writing "Reddition"?
I knew the geographical area as I have a sister who lives in Parker, CO, but fleshing out the details required numerous forays into the internet to peg landmarks, building layouts, vehicle descriptions, guns used, etc.
Who are some of your favorite protagonists of suspense/thriller novels? Why?
Nothing equals real-life characters who've been tested to the extreme, but for fictional characters I would have to choose Robert Langdon in The Da Vinci Code, Jack Reacher, (Lee Child), and of course, Hannibal Lecter (Thomas Harris), all who are tortured souls trying to sort out the puzzles of life.
While you are superb at writing action scenes, is there any kind of scene or theme that you struggle at writing (romance, racy, historical, etc.)?
As with most things, there are times I struggle, other times when I perform with ease…so it has more to do with mindset than skill I feel.
What is the best review you received for "Stacy's Story"? What was the worst and how did you deal with it?
The best review for Stacy's Story was from Kirkus (Stacy's Story Kirkus Review); the worst was from a reader who objected to the Christian overtones and suggested a warning be added to the description. Everyone is entitled to their opinion, and I make it a point never to go to war with readers.
In what ways has becoming an author changed your life in ways you didn't expect?
One, acute awareness. Whenever I'm writing—which is daily—I'm on alert. The Bad Burger Store description in Reddition, or the scene where Stacy crashes on her bike, or the nuances of Julissa snowboarding, or the popcorn boxer shorts Wardel Hawkins, Jr. wears in SANDMAN are all things I've seen or done. They say, "write what you know," and awareness is key to knowing. Two, meditation. Some generate this mental/body enhancement by purging all thoughts; I get it through zoning out and writing.
What is the most ideal ambiance for you to write in?
Sitting at the dining table, early morning. Doesn't bother me if my wife/others are doing their own thing, as I zone out.
Are you working on anything new at the moment? If so, when can we expect its release or publication?
I'm currently authoring a novel entitled SANDMAN, which takes place (mostly) on an island off the coast of Belize. A man arrives in search of a father he believed was dead and attempts to rescue him from his self-imposed exile. I hope to publish it early 2023.
Having spent quite a long time with AllAuthor by now, what is your feedback?
There are many great features on AllAuthor but the one I like best is connecting with authors and readers from all around the world. I am a consummate learner and believe everyone has something to contribute and I'm here to soak it all up. Keep up the good work.
Share John J Blenkush's interview
Susan Leigh Furlong interview
M.D. Stewart interview