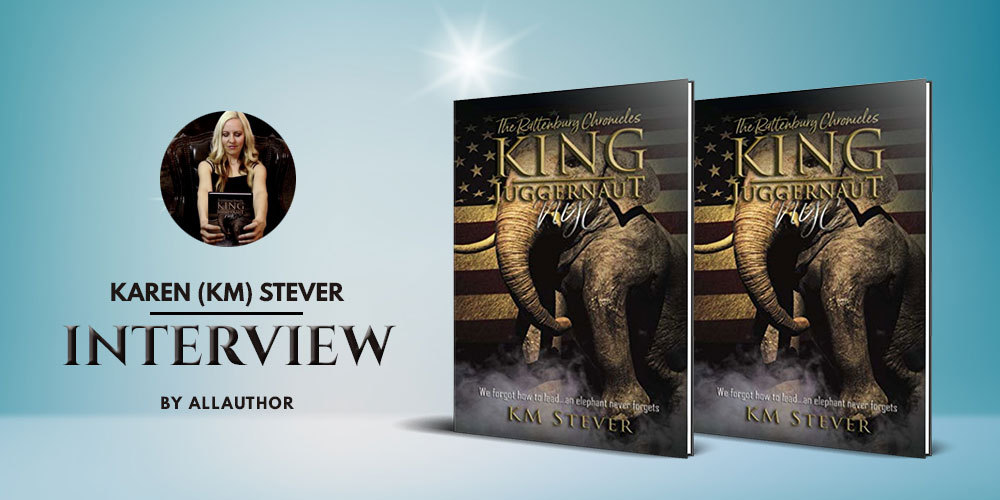 Where were you born? What do you miss the most about your childhood?
I was born in Ontario, Canada. I miss innocence. The news was of no concern to me. Adult drama was something we could run away from. I miss exploring the farm all day!
What were your dreams during childhood? Did you ever dream of becoming an author?
When I was three years old, my 4 1/2-year-old brother got to go to kindergarten and I wasn't ready until the next year. My mother let me know that I was already reading and was totally ready to go. So, it really hurt me that I couldn't get on the bus with my brother. At night, I would bring a huge stack of books to my mother and she would always laugh knowing there was no time to read all of them. As I got older, I had to learn Shakespeare in school and she would sit down and teach me about the life of Shakespeare and translate some of the crazy things that he was saying. I always loved books but I didn't realize I wanted to write them until the last decade of my life.
Where do you find ideas for a new song? Is there a specific formula to writing a song?
I just love writing songs because you can condense your thoughts into a single instance. If the mood hits, I can get the idea down like a diary whereas when I am book-writing, I have to consider the entire book series. I haven't been able to identify where the ideas come from. Sometimes, it's in a dream other times it's in nature. Most times it's just my raw feelings coming out.
What do you love the most about writing action and adventure?
I love that it is an escape from my reality. My hope is that when people read KING JUGGERNAUT - NYC, they can shut off the drama in their life and be taken away from their reality. It is the same feeling I had when I was reading CS Lewis or Beatrix Potter.
What challenges did you face while publishing your first book KING JUGGERNAUT - NYC?
I found the writing came to me really easily but formatting the book and the research I did wondering how I was going to release it, was very overwhelming. Everyone has a success story or regrets. There is a vast sea of opinions out there that often confuses things.
Who inspired the character of Ian, a nine-year-old, non-verbal savant?
I really wanted the innocence of a child to be the prevailing hero. I made Ian non-verbal because there is too much talking and I think there can be a powerful message coming from somebody who doesn't speak.
What challenges did you face to set KING JUGGERNAUT - NYC in the year 1939?
Probably because I wasn't born then, getting accurate information from that era is always tainted by whoever is covering it from a journalistic standpoint. The next book is more challenging because it is set in Germany in that same year.
According to you, what is the perfect recipe for an amazing story?
Pull my heartstrings, make me escape, let me have some fun, some disappointment, some adventure, some hope, and a whole lot of truth.
What kind of cultural value do you think reading and writing has/brings?
I purposely wrote a roadmap for each of the seven books in my series to be set in a different country so that I could explore how that era was for different cultures. My hope in the end is that culture will be the thing that bonds us all back together. Reading makes people more tolerant and relaxed.
What are some common marketing traps a lot of new authors fall into? Any advice on how to avoid them?
I don't agree that there is one way to market. It depends on where you live, who the audience is, what your message is, and what your personal goals are as an author. My advice would be to write something because you really mean it, as opposed to writing something because someone else wants it.
If there was anything you could say to your younger self, what would you say?
Put on the horse blinders and don't worry what other people think of you. Be bold! Take risks! Don't let relationships be a bigger priority than bettering yourself first.
If you could go back to the year 1939, what would you bring with you to the present year?
I love the whole vibe of it being a simpler time where people said hello to one another. I wish I could bring that back to 2020.
What is the sweetest fan-mail that you have ever received?
I had a young girl in India who, while reading the book, said to her father, "I think Mita looks like me, maybe. I think this author has people who look like us." It broke my heart to think that she was not included or represented in other reading materials from around the world.
What are you currently working on? May we know when we can expect a new book?
I am writing the next book in the series, set in Berlin, Germany. My hope is this year if life quits distracting me!
What has your AllAuthor experience been like so far? What are some highlights?
I was really thrilled that people came together to vote for KING JUGGERNAUT - NYC to win the cover of the month contest! I made a lot of new friends through that time, thank you!
Share Karen (KM) Stever's interview
Eleanor Ann Peterson interview
Victoria Kimble interview