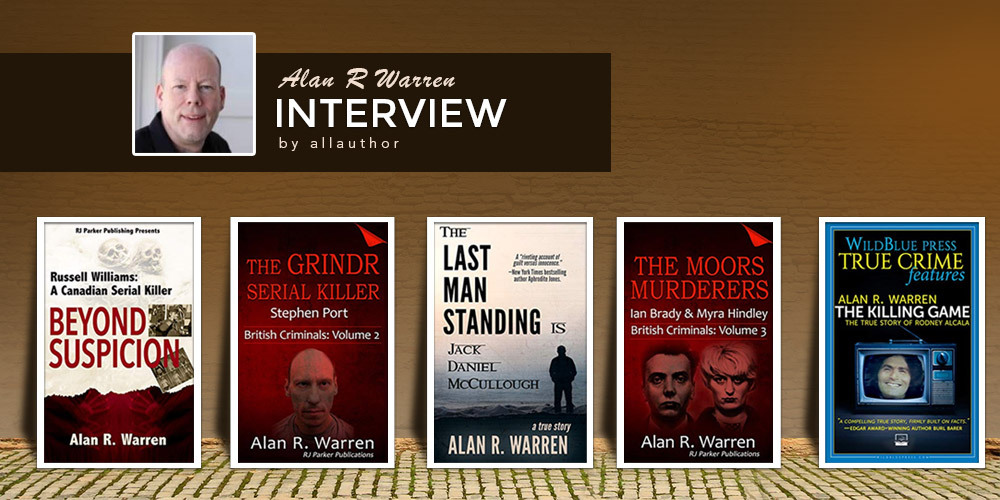 Where did you grow up as a child? What was your favourite holiday as a child and why?
In the suburbs of Vancouver, B.C. Canada Thanksgiving holiday because of the Turkey dinner
Did you always dream of becoming a writer? How and when did you decide to become a Radio Host?
No never thought of being a writer- always dreamed of radio and started to DJ as a kid
How did you ended up hosting the Popular True Crime History Radio show 'House of Mystery'? If you were hiring a person for this job, what would you look for?
I got lucky and did an interview that was popular- if I was looking for someone they'd have to be pretty easy going and likes dark comedy
As an Author, what do you believe is your best asset? What three words would you use to describe yourself?
facts analysis humor
At what age, exactly, did you start writing books? What was your first story about and do you plan on ever incorporating those early ideas into a published book in the future?
20 years old - no plans
How do you think holding multiple degrees in Religious Studies, Music, Criminology and Recording & Sound Engineering has contributed to your skills? Do you write about your college days in your books?
Just the discipline getting the degrees and learning how to do research
What kind of experience do you have performing producers' duties for the Z Talk Radio Network?
A lot of teaching as most people involved in digital radio don't have much training
How did you begin with writing the True Crime that shocked the nation in the book, "Above Suspicion?" Did you expect it to become a best seller?
It was a project I had, and I didn't expect it to sell well at all , and now there's a second updated version of the book with more information- the original was just a short read that was part of a book series
What were some of the harder aspects of depicting the true story of Rodney Alcalain in "THE KILLING GAME?" What about the story do you love and hate the most?
Because the crimes happened so long ago the hardest part was finding people still alive that were part of the crimes
Are there any "rules" that you like to stick too when writing True Crime? What draws you in the most about this genre?
I like cases that show readers how the justice system works from the inside
What was the most challenging part about making Crimes Canada: True Crimes That Shocked the Nation a 19 books series? Which book in the entire series took the longest to write?
Selecting the most important information to use in the book because they are limited in size
How was your experience of collaborating with RJ Parker while writing the book, "Beyond Suspicion?" How much time did you spend reasearching and studying the case?
That was almost two years , always good working with RJ
Share with us the best advice you've ever received. When it comes to writing, what are some of your hopes and ambitions?
Write from the gut or heart - no real hopes as for ambitions it's just to give people entertainment
Can we expect any more books to be added to the Crimes Canada: True Crimes That Shocked the Nation series? What are you working on at the moment?
I'm not sure about the Canada series, that's up to the publisher - currently just finished ' Women in Chains' about human trafficking
Share Alan R Warren's interview
Sherry Ellis interview
Donna McDine interview