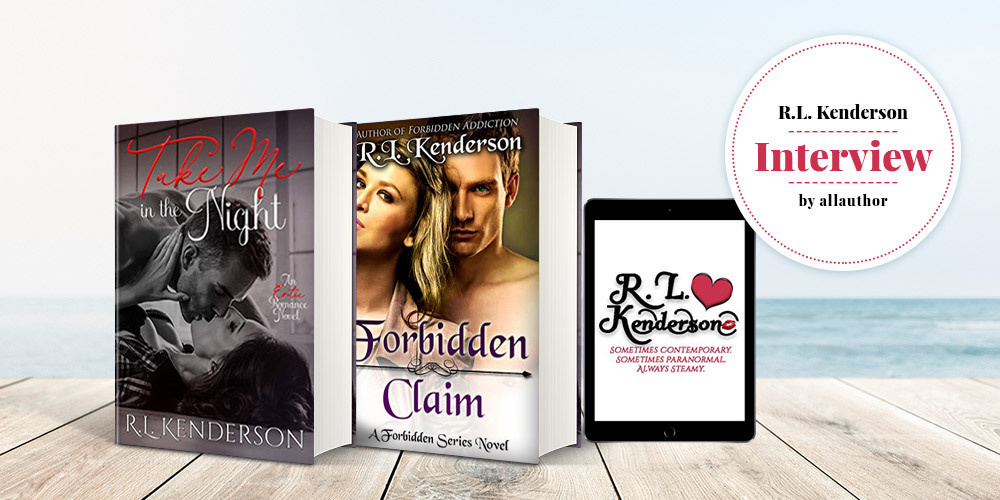 When did you decide to start writing under one name? Which was the first ever story you wrote together?
The first story we ever wrote together was Forbidden Blood, and was the first novel we published. We decided to write under one name because we formed the idea of writing a book when we were on a road trip together. We already read authors who had written books together under one name (e.g. Kit Rocha and Sydney Croft) so it seemed the the natural thing to do.
Renae always loved reading. Lara used to sneak her grandmother's Harlequin novels when she was probably too young to be reading them. Did your love for reading bring you together to write under one name?
Yes. We met in college when my (Renae's) roommate was in the same major as Lara. We first bonded over our love of the TV show Charmed, and then Lara lent me a romance novel. It was my first and I fell in love.
With one of you living in the Minneapolis/St. Paul area and the other in the Kansas City area, how difficult it gets to communicate through phone, email, and a whole lot of messages?
Pretty easy. We talk every day on the phone, and we are constantly messaging each other. We each other's person. We are super lucky to be in this tech era. It's so much easier than it was even just a few years ago.
Why did you choose to write contemporary and paranormal romance novels? Which was the first romance novel Lara introduced Renae to?
Mr. Perfect by Linda Howard. After that, I (Renae) devoured every Linda Howard book before moving onto other authors. We choose paranormal because we were big PNR fans, but one of things we loved was vampires and shifters (or werewolves) who were born that way, not turned or undead. There really aren't that many series out there like that so we decided it would be fun to do our own. After a few years, our love of PNR had died down a little, so we decided to write contemporary too. It's fun having a mix. Honestly, our PNR has a lot of contemporary elements, so it was a natural transition.
Who handles your Instagram account? You often share picture quotes on your Instagram. Which is your all-time favorite quote?
Renae handles the Instagram account for the most part. As far as a favorite quote, there really isn't one, but I can say that we like stuff that lets people know that they are perfect just the way they are, especially to woman. Societal pressures are too much, and we want people to love themselves and know it's okay to be who they are.
What do you believe is the key to successful collaborative writing? How Are Responsibilities Shared?
Communication, communication, communication. I (Renae) handle a lot of stuff, like social media, because I only work part-time, whereas Lara has a full-time job. But if I need something, I know I just need to ask Lara to do it and she will.
And I (Lara) am honestly happy when Renae asks. I love our books but I know that Renae is the driving force. I tend to view myself as a copilot who is responsible for keeping the pilot alert and on course. LMAO!
Who inspired the character of Wolf-shifter Isabelle Rand in "Forbidden Claim?" What is the most difficult thing about creating shifters and vampire characters?
I don't remember there being a who that inspired Isabelle. She was actually a secondary character in Forbidden Heat (book 2), and she was brought into the story, because Damien needed help. She and Zane clashed at first, but then they realized that they kind of liked each other. Isabelle was scared and ran back home, but readers wanted them to have their story, so several books later, they did.
Remembering all the characteristics of their species. We have a document that lists everything, but it's hard to remember sometimes when we're in the middle of writing. Human physics and laws are something we don't think about, but when you make up your own things, things we don't have about as humans, you have to remember them when you're writing. Also, you have to remember their limitations. There was one notable moment that we still laugh about where our editor caught a flub. We put a vampire in human prison, and she questioned how he would drink blood. Whoops. Way to go, Jovana, because we totally botched that part.
Why do you prefer to write dark romance over the stereotypical romance story?
Well...we definitely don't write dark romance. Our most angsty contemporary romance book is Take Me in the Night, but even that is not dark. Our others books, for the most part, are romantic comedy, but they do have touchy, feely moments. As for our PNR books, they can be a little darker than contemporary, but that's the nature of PNR. And even then, we have funny moments.
Who came up first with the idea for your book, "Take Me in the Night?" How would you describe the relationship between Maddox and Addison?
I (Renae) came up with the idea for the book. I was inspired by a book that did not go at all how I thought it would from reading the blurb. In fact, I didn't even finish it. I took the two elements that I liked about the premise, a small town and two young lovers who are separated for quite a few years, and came up with a story. And, of course, Lara got on board. It never takes much for me (Lara) to think "That sounds great!!"
Addison and Maddox have a lot of misunderstandings between them. And the circumstances around them getting separated was a big reason that the two of them turned out the way they did. They both carry resentment toward one another, yet they can't stay away.
You have written two books in the Naughty series. Are you planning to add more books to the series? Do you find it more challenging to write the first book in a series or to write the subsequent novels?
Well...first, we have actually rebranded our Naughty series. It is now called the Dirty Love series. We chose to do this because while the books give you all the feels, they are romantic comedies at heart, and we thought a lot of readers were getting the wrong impression from the covers and titles. They are steamy, don't get us wrong, but they are funny, too.
Second, we actually have four books in the series. There is a novella that we wrote after book one, that is a prequel story about a couple you meet in the first book. And then we have a novelette about the main characters in book one that is also available.
And yes, we plan to write one more story. If you've read all the books, in book two, you meet Nate's friend Ty and his sister, Tiana...who are going to get their own story. It'll be an older man/younger woman novel.
Who was your favorite character to create while writing "Passing Grade?" Was there a character or scene that was particularly hard to write?
Mace. Even though the book is told only from Eden's point of view, we really liked bringing him to life. I think one of the hardest scenes to write was the first time the hero and heroine actually met and talked to each other. We weren't sure how that interaction was going to go, but it turned out pretty good, if I do say so myself.
Who was the first reader that reached out to you? What did they say and how did you respond?
We really don't remember. We released our first book in 2014 so that was a long time ago. Wait...hold on one second.
After some digging in our email, I did find an email we receive soon after we published our second book, Forbidden Heat.
Good morning, I found your books a few days ago and have enjoyed them very much. I have really enjoyed the banter and the interaction of the main characters. I look forward to Kenzie's book. I suspect she is an amazing woman. Thanks again. [name redacted]
Our response: Hi [name redacted]! Thank you so much for the email. We are very happy to hear that you like our books! We hope you feel the same about Kenzie's story. :-) We are hard at work on it as we speak. Thanks again! Renae & Lara
How often do you meet? Apart from book ideas, what other things do you talk about when you meet?
We used to both live in the Minneapolis-St. Paul area, but we were almost an hour away from each other. We used to get together every couple of months. But now, with Lara living in Kansas City, it's been a while. We haven't seen each other since October, but this summer and early fall, we have five book signings planned so that we'll get to see each other a lot. Also, my parents live in South Dakota, which is a place we can meet up along with no hotel fee, but this winter hasn't been ideal for traveling. Lara's only been in KC for a not quite a year and a half, so we're still getting used to living so far apart. We talk on the phone all the time, so when we meet is not really so different. We talk about work, TV, books, family.
Are you working on anything at the present you would like to share with your readers about? Do you have any new series planned?
We just released our tenth full-length novel, called Object of My Desire. It's about a romance author who meets a cover model at a book signing. It was fun to write and we've gotten some great feedback on it. And then we're working on book number six of the Forbidden series, which is Saxon's book and the heroine is someone the readers haven't meet before.
When did you join AllAuthor? What do you think of the experience so far? Do you have any feedback?
Last year. We really like it so far. Only feedback would be, I would love it if we could switch our featured book. While I love the book that's featured right now, we've had two new releases since then. It would be nice to change which book is featured on your website.
Share R.L. Kenderson's interview
Cali Gilbert interview
Charlene Raddon interview