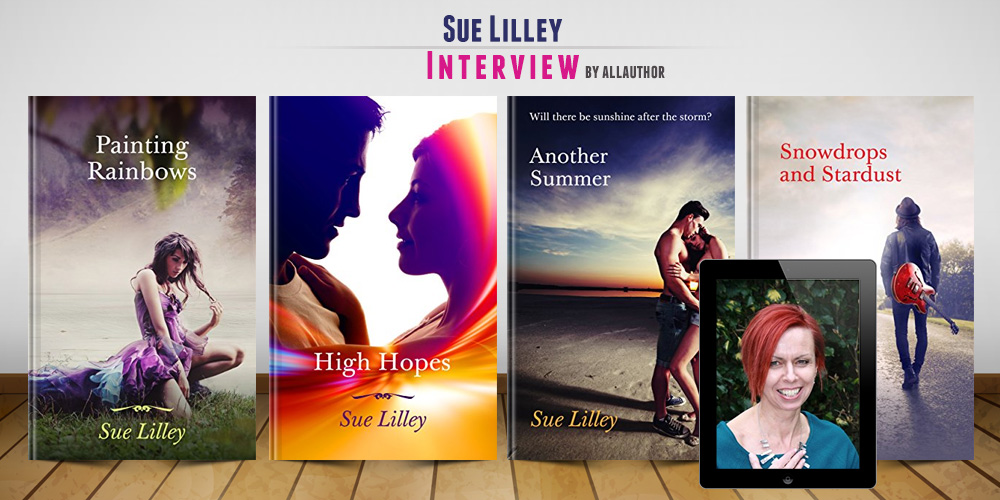 Tell us a little about your childhood and the defining moment that you realised you wanted to become a writer.
As soon as I could read, I always had my nose buried in a book. I was the child on her own in the corner, lost in an imaginary world, rather than playing outside in the cold. When I won a prize at school for writing a short story, I was encouraged by my mother crying with pride. I think I still have that hand-written exercise book in an old box of treasures. I had various romances published in magazines and moved onto longer works as I always wanted to know what happened next to my characters.
As a resident of England, what are some British stereotypes you hate? Inversely, are there some stereotypes that are extremely accurate?
Maybe it's my quirky British humour but I find most stereotypes amusing:
We love to queue – well, yes. It's polite isn't it?
We drink a lot of tea – why not? Coffee isn't as cosy. The standard cure-all response to anything from a broken fingernail to a major disaster is "put the kettle on." Just don't get sucked into debating whether the milk goes in first or last!
We're obsessed with the weather – guilty as charged. When it can feel like we're getting all four seasons in a single day, it's best to be prepared.
We've all met the queen – I haven't even seen the queen but I did once get a Christmas card from Prince Charles when I did some mentoring for The Prince's Trust.
Do you remember the first romance novel you ever read? Was it this book that got you hooked on romance or was it a book that followed after?
It would have to be Gone with the Wind, the perfect example of the book being better than the movie. I also adored Scruples and the big "sex-and- shopping" novels of the eighties. I read a lot of Mills and Boon romances, when I was trying to write one. They're great fun but I had to accept that isn't my niche.
What do you think it is about your writing that sets you apart from other romance writers?
I write contemporary romantic dramas with a realistic dose of grit and a fair bit of steam. I aim for a visual style with fast-paced short chapters, perfect for commuters or a coffee-break fix.
Who are some other authors you really look up to and how do they inspire you and your writing?
I adore big meaty stories I can really get my teeth into and I so admire the work that must go into producing them. Keeping track of all the various characters and plot strands takes real skill. My first love was Catherine Cookson who wrote gritty historical sagas set around the docklands of Tyneside, near where I live. I've read everything by Penny Vincenzi who writes huge family dramas and for lighter feel-good romance I'm a big fan of Paige Toon.
My biggest influence was Rosamunde Pilcher. She inspired my lasting love of Cornwall, where my first two novels are set. Her novel The Shell Seekers is my all-time favourite book. It has everything – history, romance and an engaging family feud over a Victorian painting which suddenly becomes fashionable and worth a fortune.
Where did you get the idea for your book "High Hopes" and what do you think it is about the book that resonates with so many readers? What would you have done if you were in the same situation as Grace?
Grace is a penniless student with no family to support her. I think she did the best she could under difficult circumstances and has carried the guilt of giving away her daughter for over 20 years. I've long had a fascination for secrets, how people go to great lengths to hide things and what happens when the truth comes out. High Hopes is the name of a place in the book and also represents the theme of having "high hopes" for the future.
Do you like to plant subtle messages or morals in any of your books? If so, what kind of message do you think the book "Another Summer" sends?
I want my characters to have realistic human dilemmas and to get themselves into scrapes by making mistakes. In Another Summer I wanted to write about someone trying to change and discover along the way if he means it. And then I wondered who would love him enough to put up with that behaviour and still believe in him? I'm always interested in why people do things. I love a misunderstood rebel character, the bad boy with a soft centre. I'm also a great admirer of forgiveness and I like my characters to be better at that than I am. I'm happy to leave moral judgements to my readers.
Are there moments when your own stories move you to tears? What was the most emotional scene you had to write in "Snowdrops and Stardust"?
I have a soft spot for the last scene. Just when you think all hope for Aiden is lost…..
When I'm finally finished editing my books, I always go through one last time as a reader. It's a magic moment if I get emotional. It means the story works.
A lot of readers said the book "Painting Rainbows" 'pulled on their heartstrings'. What do you make of this comment? What is your main objective when you write a book in terms of how you want the reader to feel?
It's perfect feedback for a bittersweet romance. My aim is entertainment. It's lovely to escape to a different world sometimes. I do like a happy ending and I enjoy fitting all the pieces of the puzzle together without it seeming contrived. If my story hooks you enough to make you miss your bus stop, I'd be secretly thrilled.
Would you ever write or publish a book that you didn't feel emotionally connected to if you knew it would sell well?
I doubt I could pull it off. It's too much hard work! Money wouldn't compensate for all those hours spent with people I didn't know or like. I write what I love because if I don't love it, who else will? Writing is my therapy and not as expensive as buying shoes.
Why do you think a lot of people become authors only during the later years of their lives? How do think we could encourage younger people to choose writing as a real and solid career?
I suspect many authors, like me, have been writing for years. When you're younger, life tends to get in the way and most people need a job to pay the bills. Fitting in quality writing time needs forward planning and a dose of anti-social behaviour. This doesn't come naturally to a closet rock-chick like me. After twenty years, I'm finding story-telling has become easier with a bit of life-experience behind me. I've always believed a writer is what you are, not what you become but it's important to put in the effort to learn the craft. So I'd say write whenever you can and never give up on the publishing dream. One day the time will be right.
When you were a newbie author, what are some rookie mistakes you made while publishing your book and how would you advise other people to avoid your mistakes?
I pressed the "publish" button on Amazon KDP, felt slightly terrified and sat back waiting for good things to happen. I think I got about 9 sales which I was ecstatic about. Then nothing! The world of independent publishing is big-business and one I never knew existed. I've had to set up a website and mailing list, learn about professional cover design, marketing and promotion, not to mention the minefield of reviewers and the legalities of copyright, tax and accounting. In between, I've published a second novel and I'm working on a third. I've learned a lot and spent a small fortune on trying things I didn't understand. Next time, I will have a proper planned launch with an appropriate budget and hopefully some of my readers who've signed up for my newsletter will be sweet enough to buy it.
Are you working on anything new at the moment?
I'm writing my third novel. I've almost finished the first draft, which is when my favourite part starts. I enjoy editing but my problem is knowing when to stop. I always want to polish and tweak until I drive myself mad. When I start waking up in the middle of the night because I've dreamed about one perfect word, I know it's time to let it go. In this story, two people who are hiding from the past have the chance to stop running, if they can only learn to trust each other. There's a hot celebrity photographer to get in their way and a dose of reality TV to spice things up. I hope my readers will love it as much as I do.
Share Sue Lilley's interview
Avalina Kreska interview
Frank Chase Jr interview