Janet Scaife's Books
Stay in the know on books by Janet Scaife. See upcoming books and the bestselling by the author here. You'll Also find the deals on books by Janet Scaife.
** Please note that the information or price displayed here may not be the updated. Make sure to double check the latest book price before buying books to read.
** Importantly, there might be other books by Janet Scaife not listed on AllAuthor.
Book
The One Meant to Last
Publish:

Sep 13, 2019
Paranormal Romance
$2.48
kindle
Free with KU
eBook,
OWLS ON THE BONNET
Publish:

Apr 19, 2020
Contemporary Romance
Paranormal Romance
Aphrodite's Child
Publish:

Oct 07, 2017
Contemporary Romance
Casanova's
Publish:

May 26, 2018
Contemporary Romance
Janet Scaife interview
On 09, Jun 2020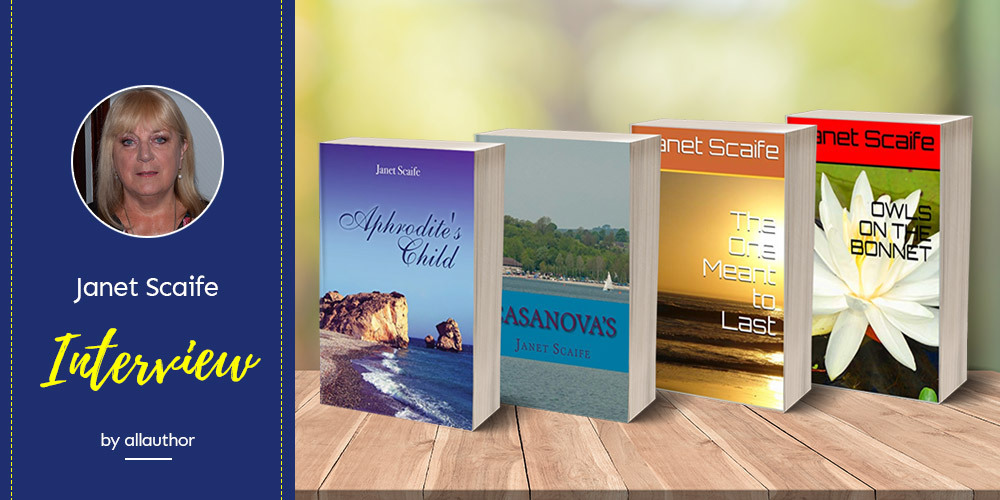 Ask Janet Scaife a Question
Have brimming questions to ask author Janet Scaife? Ask the author whatever you like, but keep in the appropriate zone.
** Please note, unanswered questions will not appear on the page and refrain from posting promotional messages.
New books and Deals in Janet Scaife's Network
Book Detail & buy option Carson; The Untold Story
Publish:

Apr 22, 2021
Series:
G-Man Series
Romantic Suspense Dirty Diana
Publish:

Mar 31, 2021 $2.99
kindle
Free with KU
eBook,
Dirty Deeds 9
Publish:

Jun 15, 2021
Crime Fiction Keyport Cthulhu 3
Publish:

May 04, 2021
Horror Room 138
Publish:

Apr 15, 2021
Science Fiction SEAL of Silence
Publish:

May 07, 2021
Romantic Suspense Organically Yours: Sanctuary, Book Five
Publish:

May 18, 2021
Series:
Sanctuary
Contemporary Romance
Romantic Suspense
Romance
MC Romance
Publish:

Apr 05, 2021
Suspense
Contemporary Romance
Romantic Suspense
Romance
Erotic Romance $2.99
kindle
Free with KU
eBook, $0.99
kindle
Free with KU
eBook,
Colors of Time
Publish:

Apr 05, 2021
Poetry Courting the Dragon
Publish:

Jun 20, 2021
Series:
Penelope's dragon
Romance
Fantasy