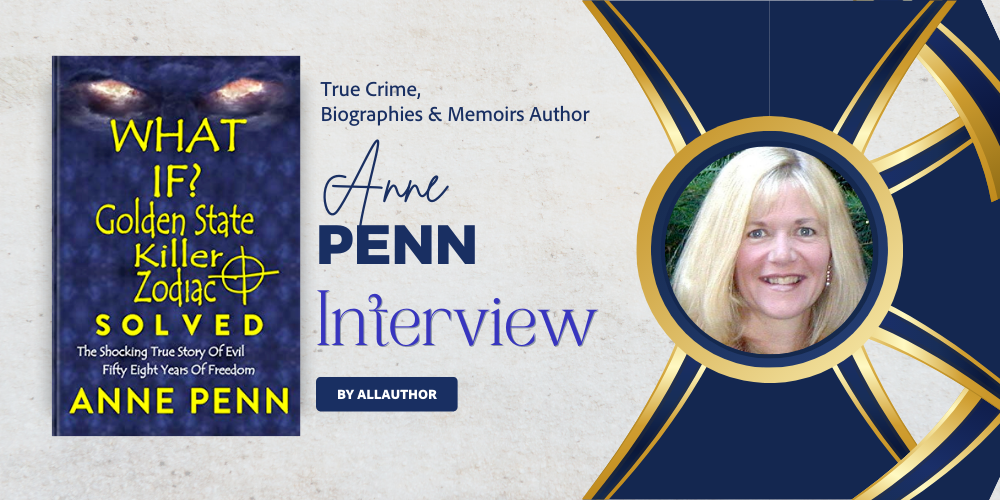 Where have I spent most of my childhood?
I grew up in Sacramento, CA, but fell in love with the mountains in Northern CA.
When and how did you decide that you wanted to write?
When I was about 7 and discovered the library - full of books and stories that would take one away just by reading!
Is it necessary to experience something to write about it?
I do not believe so, but it helps in describing and pulling the reader into the experience.
When was the first time you decided to write books about the Golden State Killer cases?
It would have to be about 2014-15. This was something I was compelled to do because of the many connections I have to the case as well as my desire to see more cold cases solved in Northern California. I am a victims/women's advocate.
What made you decide to write books for women and girls using your actual name?
I wanted people who might know me in my local areas to know that they were and are not alone. That abuse can happen to women from all walks of life, and there is help for them.
What was the best use you made of your research in your books?
I would say to call attention to unsolved cold cases and sending my books to DA Investigators in different counties in California so that they easily would know cases where DNA was and is waiting to be tested.
What are some ways in which an author can create an emotional connection with the readers through their writing?
By sharing personal experiences so that the reader may be able to relate on a human connection level. I talk to a lot of victims or victim family members, people who have lost loved ones or people's families of the missing. This makes for a human connection quickly typically.
What are some tips for writing a true crime novel?
Be truthful about the story you tell about what really happened. Even if sometimes the light you shine on a subject may make some uncomfortable - like Law Enforcement or others. The truth and integrity to tell the honest truth is very important - and sensitivity to the victims.
What were your first expectations from your novel, Equal Rights are Human Rights?
I would say it is to call attention to controversial subjects and issues that women face today. Verbal and Domestic abuse as well as the conflict over abortion rights, civil rights and the absence of Equal Rights for women in our country today.
Is it possible for a person to become a great reader and writer with limited knowledge of a language?
I would say yes, but only if the writer makes sure they have help in translating their subject matter to their audiences and doing it well. It takes commitment.
eBooks and audiobooks are taking the place of printed books around the world. How do you feel about this change?
I think that nothing can replace the traditional printed book. I think it will come back around to printed books again after people figure out what is lost in the translation. There is too much digital media and too much time spent on devices in my opinion. I personally will always prefer a real book that I hold in my hands.
What is your author's dream? Do you have any aspirations that aren't writing related?
I would say that I do, but then what I want to accomplish has to do with making a documentary or series about what I have found in my research. I also love photography and I enjoy creating from that. I have a lot to do creatively.
Is there anything you would like to say to your readers and fans? When can they expect a new book?
First, thank you for your support, great reviews and support. You are all the greatest! I really appreciate it when my readers truly get what my books are about and why I write them - they get me. I would say that another book will likely happen by fall 2023 or first thing 2024.
Which is the next book you are writing? What is it about?
The next book I would like to try my hand at is a fictional novel. But, in case that moves to the background I will likely write a true crime book about murders and unsolved cases in California in a particular area. It will not be about the Golden State Killer ases next time.
When did you join AllAuthor? I would say about 2017. How has your experience been?
I would say it has been an easy relationship. You do some professional ads for me and your site is easy to use as well as affordable. I like it. Thank you.
Share Anne Penn's interview
A J SAUNDERS interview
Charlayne Elizabeth Denney interview