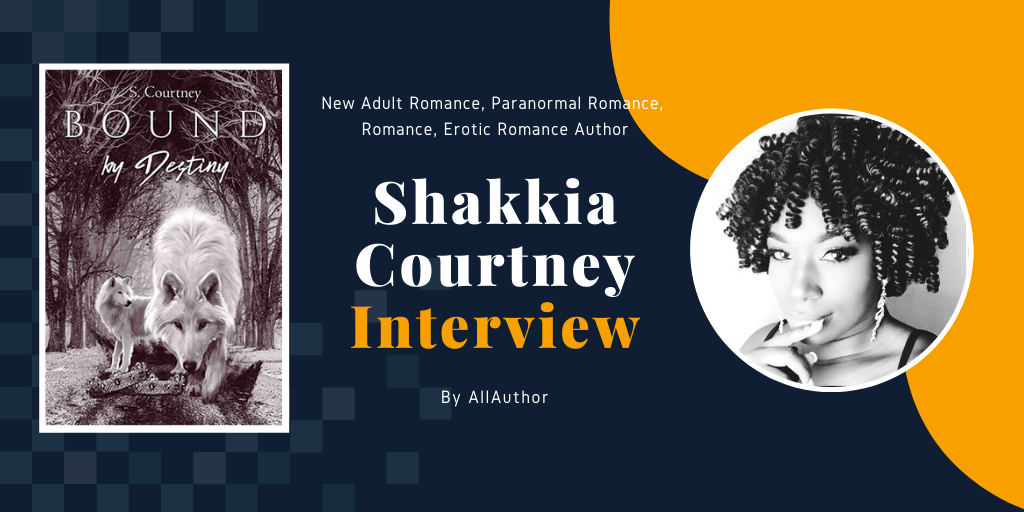 What are some of your favorite childhood memories?
They always start with my mom, going to the park, rollerskating and anything that kept my hyperactive imagination occupied.
What first inspired you to begin creatively writing in junior high?
I was the normal teenager hanging out until the street lights came on, I wasn't a big tv person but I loved listening to music and that's when my mind would create imaginative worlds.
What sets a paranormal romance apart from other paranormal genres?
I think it's being able to add an element of the unknown and adding curiosity to the story. I read quiet a few dozen stories before crafting my own.
Do you remember the first book you ever read? What was it about?
That was so long ago, I have no idea. My favorite is the Odyssey by Homer.
How did you come up with the character of Kamden Miller in "Bound by Destiny"?
Kamden is the twin to Kayari, I wanted a set of twins to add to the mystery of how they were going to rule once their parents retire.
What inspired the story of Bound to You, a tale of two destined lovers "drawn" together by fate?
It was because so many stories were kind of the same with a timid femae character and an arrogant Alpha. I wanted my fated mate story to have a strong female character alongside a strong Alpha male. I wanted her to be able to fight...if she needed to.
How important do you think book covers are? Who usually designs your book covers?
They are vital to draw the reader in, I would say that 90% of my TBR is due to the blurb and cover combo. I found an amazing Instagram artist to do my first two. I was very lucky to find him.
What have you learned about yourself since you became an author?
That I am capable of creating something that makes the world smile. I contribute to someone getting lost in my world and laughing after reading something funny.
Who was the first reader that reached out to you? What did they say and how did you respond?
My best friend was my first reader and she was impressed at my writing ability, it was wonderful to know she thought so highly of my writing.
Which one do you prefer: writing a series or a standalone novel? Why?
In the beginning I would have said a standalone but nothing I've released is a standalone. Besides I now love connecting one book to the rest of the series and seeing if the readers catch on.
If you were to write your autobiography, what would its last line read?
"She wanted the world to smile a little knowing what she left to it as a gift."
What's your opinion on shifter paranormal romance novels?
I love them, so much I learned for research and also found some things I didn't want to use as well.
Have you ever tried your hand at writing poetry? What did you write? What inspired you to write it?
Around high school I did, I don't think it's too bad just not a concentration.
Do you have any future projects we can look forward to?
Book #3, Unapologetically Nessa is releasing around Oct/Nov I am working on books #4 & 5 of the Bound Series A motorcycle club romance, the Black Aces A coffee tale, Do You Want a 'Cup of Coffee?' And a couple of other stories.
What do you think of AllAuthor? Has this website been helpful to you?
This site has been amazing, I'm glad I was referred by a fellow author to sign up. It connects me with other authors but it does some of the promo work for me and that saves me so much time.
Share Shakkia Courtney's interview
Hayley Walsh interview
Adam Gaffen interview