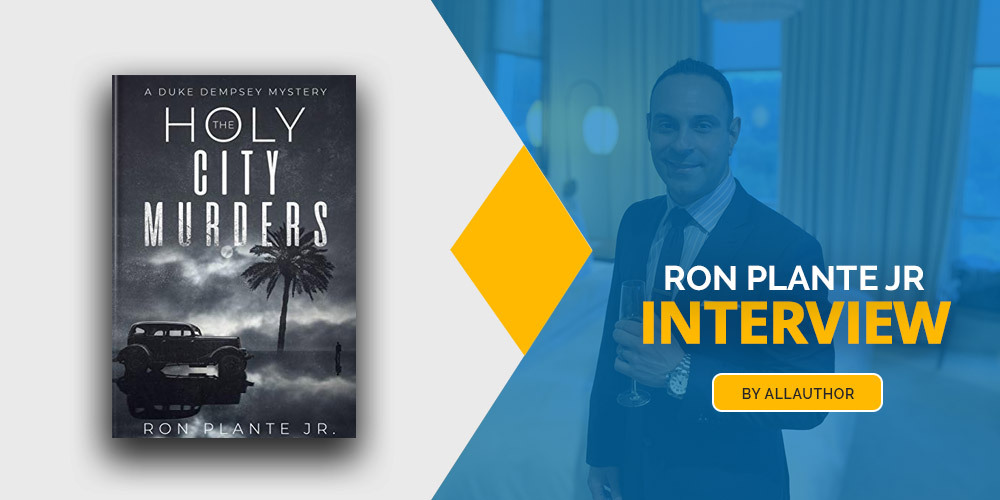 Born and raised in the suburbs of Philadelphia, which is your favorite childhood memory?
Just enjoyed being a kid in the day and age in which I was fortunate to grow up in. We were free to roam and explore. We road our bikes all over the place, played sports wherever we could find a free yard, and just enjoyed life. If we started to make our way home when those streets lights came on, we were good to go. I now have a 14-year-old and am 11-month-old and this world has changed drastically due to technology and society perception.
What do you enjoy the most about reading and writing thriller mysteries?
Well I have always loved reading mysteries. I feel mysteries make you apart of the story and gets your mind trying to put pieces together as you go along. Trying to out sleuth the detective or solve the ancient riddle before the answers are revealed just gives mysteries something other stories don't. I love trying to create that feeling for the reader. It's fun walking that fine line of just giving enough to keep your reader guessing but not too much to ruin the ending.
How do you balance time between being a Search and Rescue Coordinator for the US Coast Guard and author?
It is very tough. My job can be very demanding and obviously it takes precedence in my life. Sometimes after a tough case my brain is just too fried to try and write anything. I have come to a point in my career where I have a little more extra time to devote to writing. I finally buckled down and knocked out The Holy City Murders and it was exhilarating. More of an adrenaline rush then some of the search and rescue cases I had. As soon as it was published, I went right into the second book of the series and am proud to say that I am putting the finish touches on that as well. I think it was just getting over the initial sense of "can I actually write a book with all I have going on". Once I did I realized it wasn't as hard as anticipated. Too be honest I think the military mentality of setting deadlines and keeping to them has really helped me. I can almost write on command. I get a free hour; I'm knocking out some writing. I get a free evening; I'm knocking out multiple chapters. Write on Command I call it.
How would you describe your experience of working for the Coast Guard for nearly 20 years?
Man has it been that long? I joined right after 9/11. Living in Philadelphia at the time I'll never forget waking up and seeing the news coverage. I then had to drive to my bartending shift and remember looking up at the sky as I was driving and there wasn't a plane or helicopter in the sky. It was so eerie feeling and it was the first time in my life where I felt helpless. I was scared and didn't know what was happening. I vowed to never be the person not having any idea of what was going on and be able to do something about it. The US Coast Guard's job is to protect the homeland while other armed services go abroad. It was the perfect job for me. When I started, I was all about law enforcement. I was on the big Coast Guard Cutters you see on tv and boarded vessels trying to smuggle drugs into the US. As the years passed, I transitioned into more of the search and rescue aspect and have done it ever since. I love what I do and every day brings something new.
What sort of cultural, spiritual, or social value do you think reading and books hold?
Wow, I think all of the above for the most part. Books are our window to the past. There is nothing like getting into a book and being transported to another time or place. You can feel and see how those people lived back then or how a culture on the other side of the world lives. For me I have always had a fascination with the World War II era, Prohibition, the Rip Roaring 20s'etc. In my opinion it was the hey day of the United States and there is so much material for writing in that era. Researching the social values of the United States of that time has been and interesting experience and plan to write a lot more of that era.
What are some books that have really impacted you and your writing?
Dashiell Hammett and his Sam Spade books have been a big influence in my writing. 1930s Private Eye you can't but help gather some inspiration from the "Father of PI's". Raymond Chandler's The Big Sleep was also a big influence. I also must say that Dan Brown and Iain King have provided some influences as well, especially in the Holy City Murders.
Normally, how long does the research process for a book take? What kind of research did you have to do for "The Holy City Murders" concerning crime fiction and historical mystery?
Unfortunately, the draw back to writing a Historical Mystery is you want to be as accurate as possible regarding the time period you are writing in. Obtaining the research is only half the battle. Taking that research and utilizing it to make your story entertaining and not sound like a history book. The Holy City Murders utilized research from the 30s', the Civil War, and Roman Catholic history. Taking all that information and putting it all together for an exhilarating read was the tricky part. When I look at the final product, it was all worth it.
What, to you, is an ideal setting or environment for a good writing session?
We have a house that sits near a saltwater marsh with a beautiful view. For me when my wife is at work and my son is at school I can just sit near the window with my laptop. 1930s jazz, Billie Holiday or Benny Goodman, just faintly playing in the background. A bottle of Duke Dempsey's favorite bourbon, Evan Williams ready to go. Without a doubt that is the perfect writing environment for me.
Who inspired the character of Duke Dempsey?
I'd say Duke Dempsey is an ode to the man's man of the 30s'. He's got some Sam Spade, some Indiana Jones, and some Philip Marlow in him. He may seem cliché to some, but he has a righteous twist that I think most will enjoy.
What were your goals with the book "The Holy City Murders"? Do you think you achieved them?
Considering my goal was just to finish writing a novel, I would have to say I have exceeded my expectations. I successfully self-published my book and sales have been better than anticipated. I look forward to publishing the second novel in the series soon and using what I learned the first time to make the process smoother.
How do you keep your stories interesting and from becoming repetitive?
I'm what you call a pantser. I don't outline my stories and I don't plan out every detail before writing. I have an idea of where I want to end up and just let her rip. I think the best part of the process is watching the story unfold before your eyes. The one thing I make sure I do is have my chapters set up to easily navigate back and forth. Sometimes as ideas arise you may have to go back and tweak some chapters. Since I am writing a series there is some repetitiveness when it comes to the characters themselves, but I must say the story I am working on now is a whole new mystery and whole new plot.
What are some mistakes you made when you first started writing your crime fiction and how can other authors avoid them?
Mistakes are apart of the process. I made tons of them and I'm sure I will make more with my current novel. I will say the best piece of advice I can give is "Don't dwell on the small stuff." Just write and write and write. Don't try to restructure every sentence so it reads perfectly or you will never finish your book. Just let it rip. You have beta readers and an editor that can perfect every little thing. Let the story flow first then go back once you have The End written on the page.
What does literary success look like to you?
How is success measure as an author? I can give you the typical artist line that its all about the work and being self-fulfilled with your accomplishments. To quote a certain cinematic legend, "Fortune and Glory, kid." I want to be on the NY Times Best Seller list, I want Oprah to give my book away on her show, and I want it made into a movie. Most of all I want to be remembered forever. That is literary success to me.
Which is the next book you are working on? Is it another crime fiction?
Yes sir! It is the next book in the Duke Dempsey Mystery series and its going to be doozy. A lot of Duke's past that is referenced in The Holy City Murders comes back to haunt him. A little mafia, a little corruption, and a little public assassination to get the juices flowing.
When did you join AllAuthor? How has your experience been?
I've been with AllAuthor about 3 months so far and it truly is one of the best decisions I have made. I wish I found your site before I paid for my regular author site because you guys provide a great one. I like the different options you provide as far marketing and advertising goes. Let's be honest, the hardest thing for a self-published author is self-promoting and AllAuthor does a great job providing tools for that. I will be a lifelong member.
Share Ron Plante Jr's interview
Mark Piggott interview
Sherabim Joy interview